The Fifth Annual Bra Project Announced for October to Benefit DragonBoat Beaufort
(Bluffton/Beaufort, SC) In recognition of October being Breast Cancer Awareness Month, the Pinnacle Medical Group announces "The Bra Project" will once again benefit DragonBoat Beaufort and local breast cancer survivors. This is the fifth consecutive year that the group has presented the event.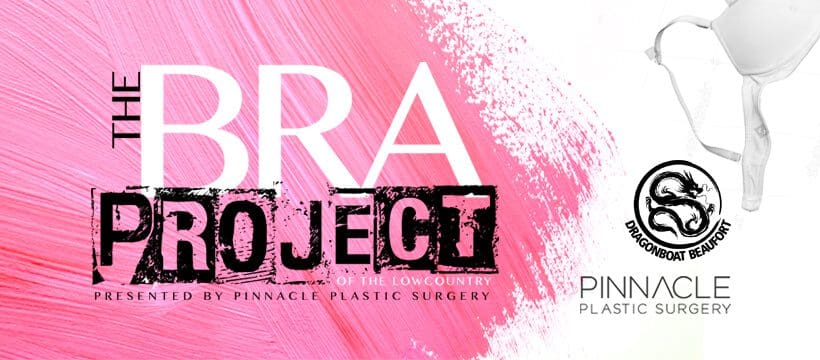 Local students from Hilton Head High School, May River High School and Bluffton High School have been invited to custom-design a bra and enter the competition. In total, 10 bras will be selected.
A kickoff unveiling event for these bras will be held at Pinnacle Plastic Surgery on Thursday, October 3, at 4 p.m. "The Bra Project" will then go on tour throughout the Lowcountry for the entire month.
"The Bra Project" student competition tour dates will be announced soon. Locations include:
Votes and donations will be collected for the public's favorite submission at each of the exhibit locations.
This year, the Pinnacle Medical Group is inviting local artists to participate in a non-competitive portion of "The Bra Project". Artists' submissions should be inspired by someone with a history of breast cancer and can be created in the medium of their choice. The deadline to enter as an artist is Friday, September 13.
All pieces will be auctioned off at the grand finale celebration, "The Bra Project: Bras and Bubbly", which will be held at the Thibault Gallery on Thursday, October 24, from 6 p.m. to 8 p.m.
During the "Bras and Bubbly" event, the students' bras will be on display and the winner will be announced. Proceeds for the event will benefit DragonBoat Beaufort. Tickets are $25 and can be purchased at https://www.eventbrite.com/e/bras-bubbly-event-tickets-69224118201.
"So many of our patients are affected by breast cancer and we see first hand how someone's family, work, confidence and overall quality of life can be impacted," said Dr. Audrey Klenke, plastic surgeon and principal of Pinnacle Medical Group. "As a practice, Pinnacle Medical Group is dedicated to supporting the breast cancer community and our neighbors who are facing the fight with cancer. This annual fundraiser is our way of helping and we encourage everyone in the Lowcountry to join in our effort."
According to breastcancer.org, an estimated 268,600 new cases of invasive breast cancer along with 62,930 new cases of non-invasive breast cancer are expected to be diagnosed in women in the U.S. in 2019 alone. Overall, about 1 in 8 U.S. women (12%) will develop invasive breast cancer over the course of her lifetime.
DragonBoat Beaufort is a non-profit organization that started in 2012 when a group of cancer survivors was inspired by "Awaken the Dragon," a documentary shown at the 2012 Beaufort International Film Festival. The goal of the organization is to assist cancer patients who live, work or receive treatment in the Lowcountry.
For more information on the events, the student competition or ways to get involved, please contact Melody Jones at mjones@pinnaclemd.com or 843.815.6699 ext. 1009.
ABOUT THE PINNACLE MEDICAL GROUP
The Pinnacle Medical Group is the locally owned and operated parent company of Pinnacle Plastic Surgery, PURE Medical Spa and Beaufort Dermatology. Principal, Dr. Audrey Klenke is the only board-certified female plastic surgeon in Bluffton, South Carolina and is affiliated with multiple outpatient centers in the area, as well as, Beaufort Memorial Hospital and Hilton Head Hospital. Pinnacle Plastic Surgery and PURE Medical Spa are located at 7 Mallet Way, Bluffton, SC 29910. Beaufort Dermatology is located at 1096 Ribaut Road, Beaufort, SC 29902. For more information, please call (843) 815- 6699, or visit http://pinnaclemd.com/, http://pinnacleplasticsurgery.com/, http://puremedspamd.com/ and http://www.beaufortdermatology.com/.